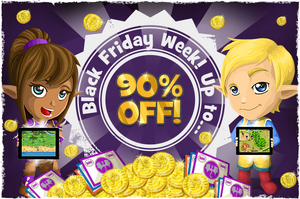 It's that time of year again!
BLACK FRIDAY WEEK! It's time for a massive holiday season sale in! Check the in game store for massive discounts on BARNS, WORKSHOPS, and DECORATIONS.
Get your bargains NOW → http://bit.ly/1di1Oi0
Items on sale
The FanPage promises up to 90% off. Let's brake these fabulous prices down...
Buildings
Factories - (up to 88% off)
Storage - (up to 43% off)
Workshops (up to 53% off)
Decorations - (up to 90% off)
Prices ranging between 1

and 49

, be careful.. some of these items can be bought in bundles for coins or crafted. *wink wink*
Specials
Landscape - (up to 50% off)
Upgrades required:
Ad blocker interference detected!
Wikia is a free-to-use site that makes money from advertising. We have a modified experience for viewers using ad blockers

Wikia is not accessible if you've made further modifications. Remove the custom ad blocker rule(s) and the page will load as expected.