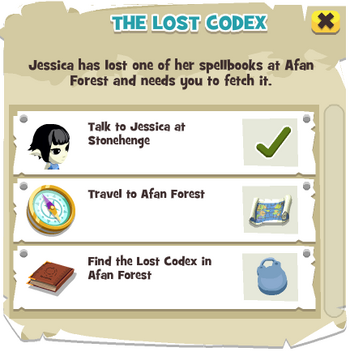 The Lost Codex is a quest given to your Folk by Jessica in Stonehenge.
To activate this quest you need to complete the The Corruption of Stonehenge quest in Stonehenge.
Quest Requirements
Hints/Spoilers
Use the link to the right to show or hide the hint, you will see a text based hint first and then have to click a spoiler button to see the answer.
Quest Reward
Completing this quest will unlock the Pixie Problems quest. You will be awarded with 5

.
Quest Dialogue
Ad blocker interference detected!
Wikia is a free-to-use site that makes money from advertising. We have a modified experience for viewers using ad blockers

Wikia is not accessible if you've made further modifications. Remove the custom ad blocker rule(s) and the page will load as expected.