Sturgeon-in-chief
Comments

0
3,759pages on
this wiki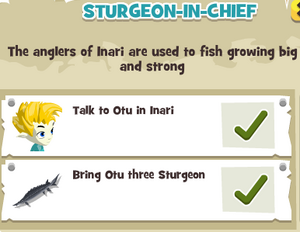 Sturgeon-in-chief is a quest given to your Folk by Otu in Inari.
To activate this quest you need to complete the Coddled quest from Otu in Inari.
Quest Requirements
Talk to Otu
Bring Otu three (3) Sturgeon
Quest Reward
You will be awarded with 1875 coins and one Cold Iron Nugget.
Coddled

Current Quest

Sturgeon-in-chief

-
Return to

Quests

Page