For a list of the currently available monsters, see Trappable Monsters.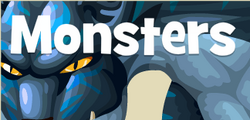 Monsters are animals that exist in the world that have been corrupted by the Corruption. In order to rescue them and cure them, you must trap them and apply a special potion from the Ministry of Monsters. Many of the monsters are normally peaceful, but have been driven mad by the corruption.
Types
There are many types of monsters:

















Each type requires a different type of trap to be able to effectively catch it.
Monster Gallery
The following is an image gallery of all the monsters.
Click show/hide link to the left.
Monster Table
This table lists all known Monsters with their category, strength, speed and I.Q.. The "power" is the sum of the three values which gives an idea of the overall difficulty of a monster. The table also contains how much coins and XP we earn after catch specific monster.
Monster names in italics are not yet active and cannot yet be captured. Their numbers may change when they are finally released.