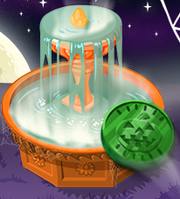 The Haunted Wishing Well is a special seasonal Wishing Well that was added during All Hallows' Festival in October 2012. This well replaced the original well in London for the duration of the festival.
Festival in 2013
During the 2013 All Hallows' Festival, the ability to use Hallowed Wishing Coins returned to the Wishing Well in London, though the design did not change.
Prizes
Festival in 2012
This well works similarly to the regular wishing well, and Wishing Coins can be tossed in to collect prizes. However, a new wishing coin was added during All Hallows' Festival called the Hallowed Wishing Coin that gave seasonal prizes to Folk who logged in each day.