Here Be Monsters is currently available to play on Facebook, on the HBM Game Website commonly called 'dotCom', and through an app available on iPad. These three versions follow the same storyline and have similar game features and access to the same game-wide chat feature.
Facebook Platform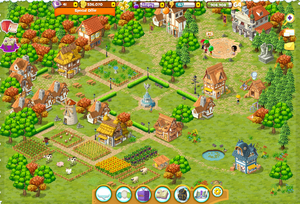 This was the first release platform for Here Be Monsters, which was available solely on Facebook during it's alpha and early to mid beta periods, beginning in August of 2012.
The Facebook version of the game provides an added benefit of collecting additional gifts and Time Potion from facebook friends. You are given the option to 'brag' about each of your achievements and level increases to friends on your facebook profile. They can then collect special items from clicking a link on your Facebook account to open the game.
dotCom Platform
This was the second release platform for Here Be Monsters, which rolled out around December 20th of 2013. 1
Due to Facebook restrictions, accounts cannot be transferred between Facebook and the .com versions of the game. So players using this platform will need to start the game from the beginning. There is no 'brag' feature currently available for .com players to share their game achievements and provide additional gifts for friends, beyond the normal daily gifting. However players are often sent a thank you message when they begin the game to claim 50 Bank Notes for free.
iPad Platform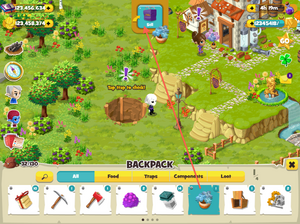 This was the third release platform for Here Be Monsters, which was available in the UK and Canada on March 24, 2014 1, and released worldwide on June 4, 2014 2
Gameplay and game screens are slightly different on the iPad as they need to be compatible with a touch-screen style of play. There is no 'brag' feature currently available on the iPad version of the game. Several of the homestead tools involve clicking and dragging an item to a screen icon to perform an action.
Users on the iPad are able to use either their Facebook game or the dotCom game version. If a user has one of each, they are able to swap between the games.
Ad blocker interference detected!
Wikia is a free-to-use site that makes money from advertising. We have a modified experience for viewers using ad blockers

Wikia is not accessible if you've made further modifications. Remove the custom ad blocker rule(s) and the page will load as expected.