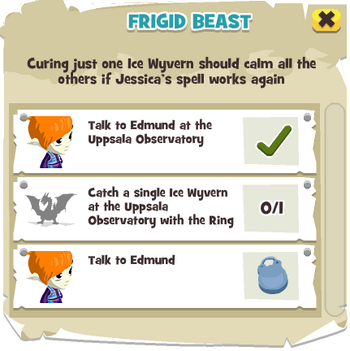 Frigid Beast is a quest given to your Folk by Edmund in Uppsala Observatory.
To activate this quest you need to complete the Ice Ice Baby quest from Jessica in Vesuvius.
Quest Requirements
Talk to Edmund at the Uppsala Observatory
Trap a single Ice Wyvern at the Uppsala Observatory with the Ring of Runes
Talk to Edmund
Quest Reward
Completing this quest will unlock the Let's Finish Up Here quests. You will be awarded with 5

.
Ad blocker interference detected!
Wikia is a free-to-use site that makes money from advertising. We have a modified experience for viewers using ad blockers

Wikia is not accessible if you've made further modifications. Remove the custom ad blocker rule(s) and the page will load as expected.