The Edmund's Quill is a type of quest item that is needed to complete the With a Plume quest.
"
A quill that is very important to Edmund. Sadly it seems to be broken.
"
How To Get
This item can be found hiding in Lennebergwald.
Uses
This item has no additional uses.
Quests
This item is needed in the following quests:
Hint/Spoilers
Use the link to the right to show or hide the hints.
Look hard near the path on the bottom left, between the trees.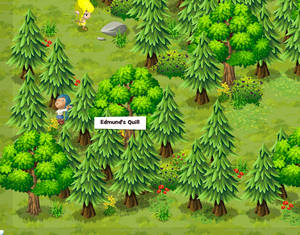 The Quill is behind an Oak tree and Pine tree in the bottom left corner of Lennebergwald.
Ad blocker interference detected!
Wikia is a free-to-use site that makes money from advertising. We have a modified experience for viewers using ad blockers

Wikia is not accessible if you've made further modifications. Remove the custom ad blocker rule(s) and the page will load as expected.