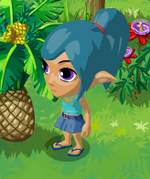 Clothing can be worn by your Folk as you travel around in the world. There are many different varieties and styles, including seasonal items, that are available to wear.
Getting New Clothing

You can purchase new clothing items from any Tailor's Shop or by selecting "Change Your Appearance" in the Player Profile menu.
To put on any item of clothing, select the item from your backpack and click on your Folk.
Clothing
For a list of all clothing, see Category:Clothing.
Tops
Skirts
Pants
Shoes
Ad blocker interference detected!
Wikia is a free-to-use site that makes money from advertising. We have a modified experience for viewers using ad blockers

Wikia is not accessible if you've made further modifications. Remove the custom ad blocker rule(s) and the page will load as expected.