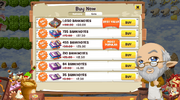 Bank Notes is a type of currency that can be used to purchase special upgrades. You can get this currency purchasing it. You will also have the chance to win up to 10 bank notes on every 5th day of consecutive play via the Ministry of Monsters journal.
Ad blocker interference detected!
Wikia is a free-to-use site that makes money from advertising. We have a modified experience for viewers using ad blockers

Wikia is not accessible if you've made further modifications. Remove the custom ad blocker rule(s) and the page will load as expected.